Campionato del Mondo Gp Pietramurata
Campionato del Mondo MX2 Gp Pietramurata.
Il circuito "Il Ciclamino" di Pietramurata ha ospitato la seconda gara in Trentino, quindicesimo appuntamento della stagione per la classe Mx2.
Gran premio non semplice per il portacolori del KTM Racestore Team Jan Pancar, che accusa ancora i postumi della spaventosa caduta di domenica scorsa.
Lo sloveno, dopo aver segnato il 24° tempo nelle qualifiche della mattina all'abbassarsi del cancello di gara 1 riesce comunque a partire a centro gruppo concludendo al traguardo in 18° posizione.
Buona partenza che riesce a ripetere anche in gara 2, ma purtroppo la doppia caduta in manche e le condizioni fisiche non gli hanno permesso di fare meglio della 21° posizione.
Adesso qualche giorno di recupero in vista del terzo e ultimo appuntamento a Pietramurata in programma domenica prossima dove si disputerà il Gp del Garda.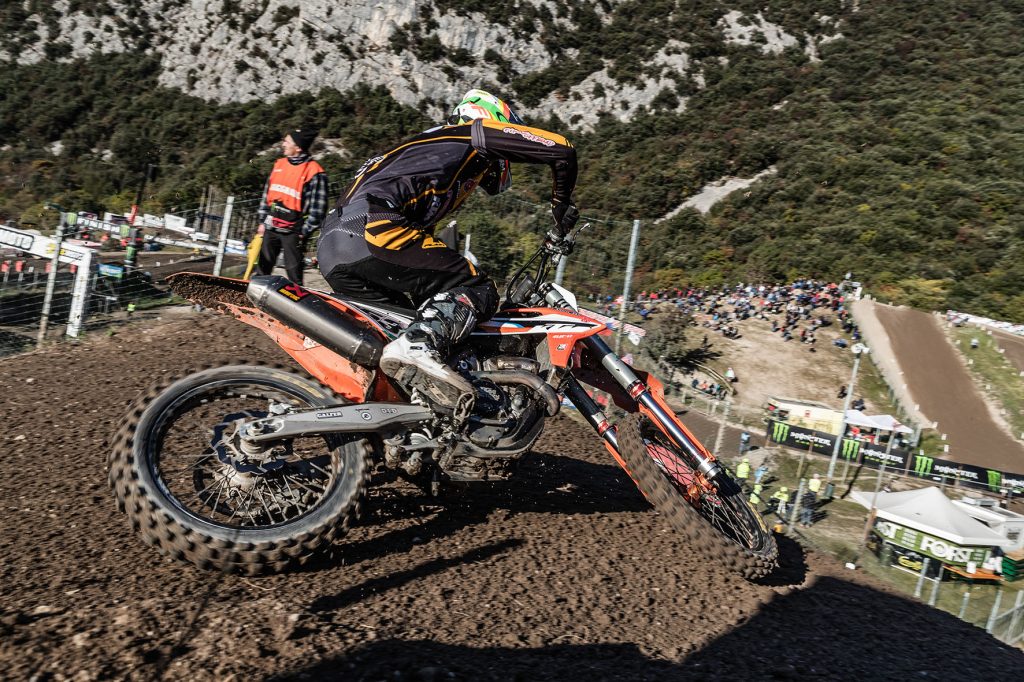 World Championship MX2 GP Pietramurata .
The "Il Ciclamino" circuit of Pietramurata hosted the second race in Trentino, the fifteenth round of the season for the Mx2 class.
Not an easy grand prix for the KTM Racestore Team rider Jan Pancar, who still feels the after-effects of last Sunday's terrible crash.
The Slovenian, after having set the 24th time in the morning qualifying when the gate of race 1 was lowered, still managed to start in the middle of the group, finishing at the finish in 18th position.
Good start that he manages to repeat also in race 2, but unfortunately the double crash in the heats and the physical conditions did not allow him to do better than the 21st position.
Now a few days of recovery in view of the third and final appointment in Pietramurata scheduled for next Sunday where the Garda GP will be held.