Campionato del Mondo MX2 Olanda
Campionato del Mondo Mx2 Olanda
Il Gp d'Olanda si è tenuto sulla pista di Arnhem, tracciato che entra per la prima volta nel calendario mondiale; anche questa come molte piste del nord Europa, caratterizzata dal fondo sabbioso. Alessandro Valeri dopo la buona prestazione di una settima fa in Svezia si appresta a continuare il suo percorso di crescita su piste del tutto nuove per lui.
La manche di qualifica del sabato vede Alessandro mettere in scena una buona prova, il pilota marchigiano che partiva da una posizione al cancello non favorevole, riesce a spuntare bene e grazie ad un ottimo ritmo finisce in 21° posizione.
In gara 1 invece, con uno start non proprio brillante, si trova fin da subito a dover rimontare. Purtroppo una scivolata gli fa perdere terreno prezioso, ma con una buona rimonta arriva subito a ridosso della zona punti, mantenendo la posizione fino alla bandiera scacchi.
Buona la performance di gara 2, dove dopo una buona partenza riesce a tenere un ottimo ritmo. Qualche piccolo errore dato dalla inesperienza gli fa perdere alcune posizioni. Nel corso degli ultimi giri però riesce ha riprendere il suo ritmo iniziale, e con alcuni sorpassi lo vedono tagliare il traguardo 22°.
Ora qualche giorno di riposo per il Racestore Ktm Racing team prima dei prossimi appuntamenti di fine stagione.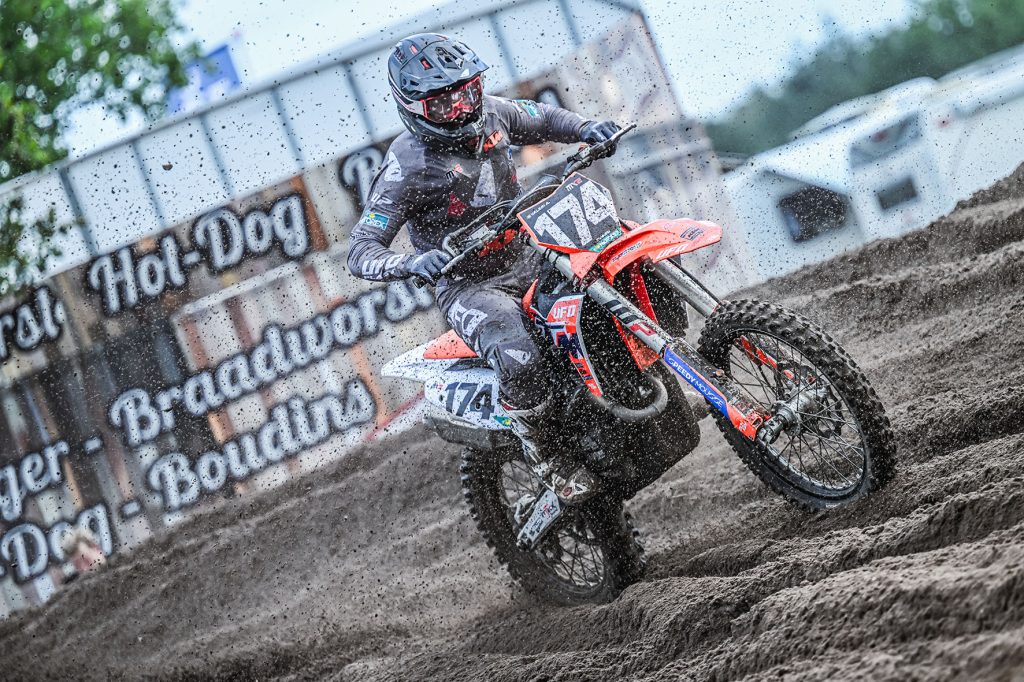 Mx2 World Championship Gp of Holland
The Dutch GP was held on the Arnhem track, a track which is entering the world calendar for the first time; this too, like many tracks in northern Europe, is characterized by a sandy bottom. Alessandro Valeri after the good performance of a seventh ago in Sweden is preparing to continue his growth path on completely new tracks for him.
The qualifying heat on Saturday sees Alessandro put on a good test, the rider from the Marche who started from an unfavorable position at the gate, manages to get through well and thanks to an excellent pace he ends up in 21st position.
In race 1 however, with a not exactly brilliant start, he immediately found himself having to make a comeback. Unfortunately, a crash made him lose precious ground, but with a good comeback he immediately arrives close to the points zone, maintaining his position until the checkered flag.
Good performance in race 2, where after a good start he manages to keep an excellent pace. A few small mistakes due to inexperience cause him to lose some positions. During the final laps, however, he managed to regain his initial rhythm, and with some overtaking they saw him cross the finish line in 22nd place.
Now a few days of rest for the Racestore Ktm Racing team before the next rounds at the end of the season.