Campionato del Mondo MX2 Maggiora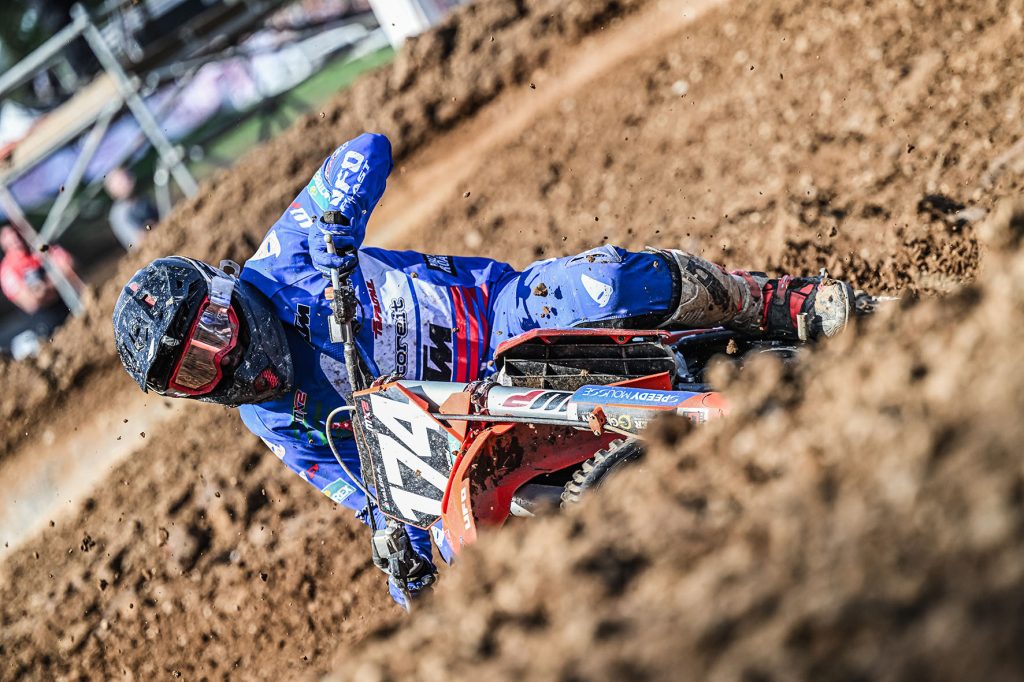 Campionato del Mondo MX2 Gp Italia.
Il penultimo Gp della stagione si è svolto sulla leggendaria pista di Maggiora, il Montaccio del Balmone che nei giorni precedenti e fino al sabato mattina è stato caratterizzato da forti piogge che hanno reso il tracciato al limite dell'impraticabilità.
Weekend all'insegna della sfortuna per Alessandro Valeri che nelle qualifiche, atterrando da un salto si è causato una forte compressione alla caviglia. In una pista resa scivolosa dalla pioggia, con i denti stretti per sopportare il forte dolore, conclude la qualifica in 26° posizione .
Dopo un check e consulto dal fisioterapista, il pilota marchigiano e il team decidono di schierarsi in gara 1: brutta partenza per Alessandro che partito dalle ultime posizioni riesce a recuperare fino alla 25° piazza.
Anche nella seconda e ultima manche la sfortuna non l'ha abbandonato. Infatti alla prima curva viene centrato da un avversario che lo fa cadere a terra. Alessandro non perdendosi d'animo e con un'eccezionale rimonta riesce a concludere la gara al 20° posto, portandosi a casa un punto mondiale.
Paolo Mencacci commenta così: "il Gp di casa è sempre stata una gara sentita, ma per Alessandro ancora di più visto che si trattava della sua prima volta. Credo che un po' di sfortuna e un po' di emozione abbiano giocato un ruolo fondamentale. Sono molto contento dell' ottimo percorso di crescita di Alessandro e spero che questo bagaglio di esperienza lo porti sempre con se"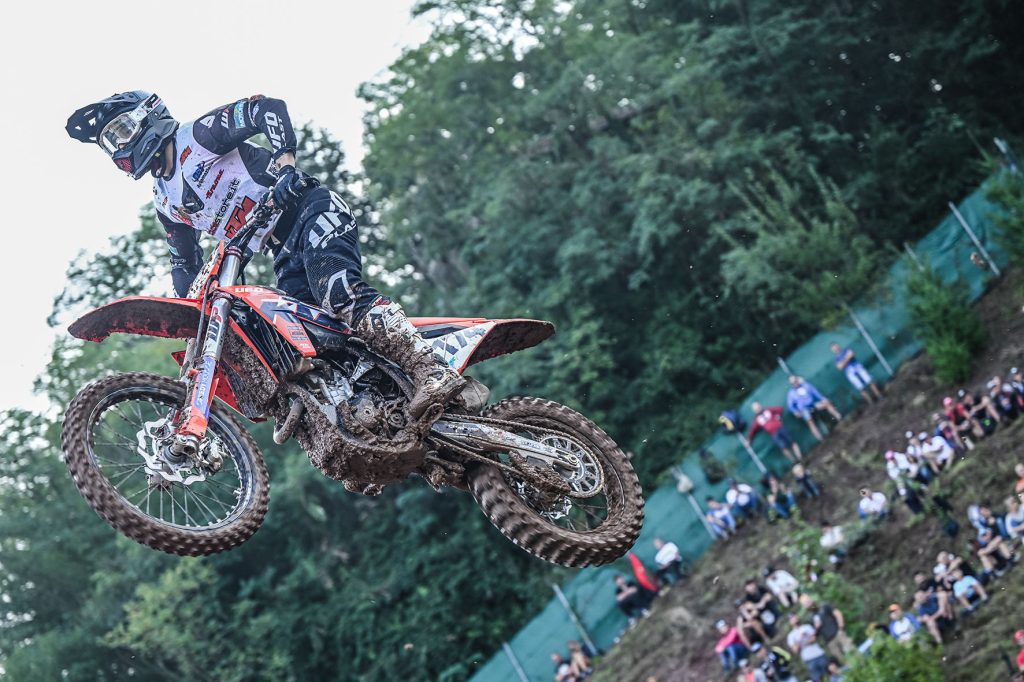 MX2 World Championship Gp Italy.
The penultimate GP of the season took place on the legendary Maggiora track, the Montaccio del Balmone, which in the previous days and until Saturday morning was characterized by heavy rain that made the track borderline impassable.
Weekend full of bad luck for Alessandro Valeri who in qualifying, landing from a jump caused severe compression in his ankle. On a track made slippery by the rain, with gritted teeth to bear the severe pain, he finished qualifying in 26th position.
After a check and consultation with the physiotherapist, the driver from the Marche and the team decide to line up in race 1: a bad start for Alessandro who, starting from the last positions, managed to recover up to 25th place.
Even in the second and final heat, bad luck did not abandon him. In fact, at the first corner he is hit by an opponent who makes him fall to the ground. Alessandro did not lose heart and with an exceptional comeback managed to finish the race in 20th place, taking home a world championship point.
Paolo Mencacci comments thus: "the home GP has always been a heartfelt race, but for Alessandro even more so given that it was his first time. I think a bit of bad luck and a bit of emotion played a fundamental role. I am very happy with Alessandro's excellent growth path and I hope that he always carries this wealth of experience with him"